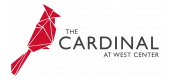 Your Review
Submit a Review

Resident Reviews
|Recommended: Yes
Great location and apartment, has it's issues though. — I enjoy living here at Cardinal. I'm living in the 4 bedroom apartment option. the kitchen is great There's plenty of cabinet space for four people and then some. the fridge, oven, and microwave are really nice. and the living room is nice as well. You have to be comfortable sitting close to your roommates if there's a roommate movie night, as there is only a three-seat couch and a chair for the living room. The bedrooms are big compared to the other apartments I toured. Each person gets their own bathroom and the bathrooms are big with a bath and shower combo. We had to put in multiple requests for a maintenance request to fix our washer, but when we put one in person the maintenance man came very quickly and fixed our problem. Each person who pays for parking gets their own assigned parking spot which I find very nice and it's half the cost of parking in the university parking garages. There are odd stains on the walls of the second floor that haven't been cleaned since I got here, and cars and people can be easily heard all throughout the night and day.
Ashlyn, thanks for taking the time to review, we're so happy you're enjoying it here!
|Recommended: Yes
I LOVE it here Especially as a Student — The cardinal has everything Even job opportunities. I don't know what it is with my neighbors, though. Sometimes it sounds like they are bouncing weights up and down. But it only seems to affect me and it's not frequent enough to be a bother so I don't really take it into consideration as a bad trait when I am recommending this place. I could probably do something about it and it would be resolved. That is with everything around here cause maintenance is really quick about getting things done At first, I was a little apprehensive about the staff but they are really sweet. I love the pool and how close it is and how I have a gym right downstairs. My room is great and it's really convenient to campus.
Sophia, thanks for taking the time to review, we're glad you're enjoying it here! We do have security so if there's ever an issue with someone being a little too loud please give us a call! We have 24H on call maintenance and courtesy support. -The Cardinal
|Recommended: Yes
Its pretty nice — Its close to campus
Lillian thank you for taking the time to review! I agree our location makes it easy to get to class without messing with on campus parking or a bus! -The Cardinal
|Recommended: Yes
Solid 7.0 — Only issues I've really had is the frequency of fire alarms going of is far to common when half the time nothing ever happens which can become a safety hazard because people don't take them seriously. Some of our appliances are older, and the wood could be updated as there were several chips when we moved. Other than that it is a great place to live due to the location and price.
Maguire, thank you for taking the time to review. We completely agree about the alarms. The fire department and our alarm system company confirmed that it went off due to smoking/vaping under a smoke detector and we have a strict no smoking policy in the building. We do not want our residents inconvenienced and we don't want to the fire department to waste their time here when they have more important tasks to tend to. Please report anyone you see smoking or vaping to the office, we want to make sure this never happens again! -The Cardinal
|Recommended: Yes
It's good — Convenient place to live if you're going to be on campus.
Michael, thank you for taking the time to review, we're glad you like it here! -The Cardinal
|Recommended: No
The Cardinal is the Best — When I first moved into The Cardinal, I fell in love with the location as well as the overall quality of the community.
Thank you for taking the time to review Kyle, I'm glad you're enjoying it here!
|Recommended: YesThis is a great apartment complex. Lots of great amenities. — Great rooms, great pool, great exercise area. Parking garage is nice as well as staff.
|Recommended: YesBetter than most. — I would say that The Cardinal is an overall better apartment complex than most I have been to. I like that the construction is new and modern. My only complaint is the room im in faces the plaza which can get loud at night, but that is really my only complaint.
|Recommended: YesBetter than expected — Both the residents and staff are friendly, helpful, and welcoming. Since move-in day was very hectic, I expected living here to be the same. To my surprise that wasn't the case. Especially when compared to the apartment complex across the street, it's much quieter. The main downfall being the shower, it makes loud noises when turned on and does cut out here and there.
|Recommended: YesGreat location Nice balconies. — Love the location Nice apartment.
|Recommended: YesThin walls — I can hear my upstairs neighbors all too well, as they seem to have heavy steps. My floor neighbors are more respectful and keep the noise to a minimum. But the slightest noises do seem to travel through these walls. Other than that, maintenance is maintained well, overall complex is clean and the staff is on top of things.
|Recommended: YesIts nice — Live here
|Recommended: YesIt's okay — I think its very clean and a nice place to stay and has a great staff. Although it is very noisy and they charged me a whole months rent for August when I was only there a week lol.
|Recommended: YesI love it. wish it had a lawn area — Its nice quiet and friendly