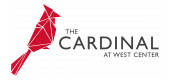 Your Review
Submit a Review

Resident Reviews
|Recommended: YesEverything has a nice aesthetic — I like the layout a lot and everything looks really nice.
|Recommended: YesOverall a good property. — It's a typical apartment perfect for the average 20 year old college kid.
|Recommended: YesGreat — The location is the best and they are always doing a give-a-way, free food or another kind of resident event.
|Recommended: YesSafe, Close to Campus — I am very happy with this location for my daughter. She has been there for two years and it has been a better choice than the dorms.
|Recommended: YesIt's ok — Depends on what room you get, but my room is pretty good
|Recommended: Yes
I have been living at the cardinal for several months now and I genuinely really love it I've already re-sign for next year The cardinal is definitely a unique apartment complex. The front desk is very friendly they're always having events and giveaways and giving out free food lots of ways to make new friends and get connections Which is something that is definitely hard to find maintenance is really good anytime I've ever had a problem they come that day. They're always very careful with my packages and mail. It is a great place to live
Thank you for taking time to leave us a review. We love hearing that you enjoy our events and give-a-ways. Our maintenance team is always working to make sure your apartment is in tip-top shape. We can't wait to see you at our next resident event!
|Recommended: Yes
Great Maintenance Service, Great Staff, Good Rooms — Punches above its pay grade, especially at such a good location near campus, if you're an engineering student, I would highly recommend staying here.
Ryan, Thank you for your review. We love hearing that you think you are getting a great value. We try to go above and beyond to provide all of our residents with a tremendous value!
|Recommended: Yes
Great experience overall — I would tell them that it's a really nice place to live for students. It is very easy to get to campus and very reasonable rent for the quality of living.
Anna, Thank you so much for your review. We aspire to create an amazing experience for all of residents. We love hearing that our location and price have created such a great experience for you!
|Recommended: Yes
Accurately advertised, good location, cheaper than dorms. — Individual room bathroom No major complaints. Commons area No major complaints, kitchen and living area are what they are. Note that the fridge does not have a water dispenser, so you will need to keep buying water bottles probably. Internet The apartment has wifi on par with the university wifi. In other words, it's fast. Really fast. Note that at least in my quad ethernet is limited to the box in the commons, and that it's actually not as fast as the wifi. So basically just use the wifi for your room devices. Noise Sound insulation is good from room to room, not so much room to commons. May want to consider getting stuff to reduce sound travel through your door, or your partying housemates may ruin your night. Staff Haven't had any bad experiences or rude encounters so far. Maintenance is relatively fast as well. Location There are hills everywhere heading to campus from here. That said, it's a short walk to campus overall unless you happen to have any classes on the Hotz, Futrall, etc. side of campus. Note that you can and should get a bike despite the hills since wherever you're going, at least one of your trips to and from your destination will be faster since it'll be downhill.
Nathan, Thank you so much for your detailed review. We love hearing that you are happy with apartment. We think we have the best location in Fayetteville and are thrilled that you think the same!
|Recommended: Yes
Its very a very good community to be a part of. — It is easy
Hi Andres, thanks for the review! I hope you enjoy the rest of your stay here!
|Recommended: Yes
Great location and apartment, has it's issues though. — I enjoy living here at Cardinal. I'm living in the 4 bedroom apartment option. the kitchen is great There's plenty of cabinet space for four people and then some. the fridge, oven, and microwave are really nice. and the living room is nice as well. You have to be comfortable sitting close to your roommates if there's a roommate movie night, as there is only a three-seat couch and a chair for the living room. The bedrooms are big compared to the other apartments I toured. Each person gets their own bathroom and the bathrooms are big with a bath and shower combo. We had to put in multiple requests for a maintenance request to fix our washer, but when we put one in person the maintenance man came very quickly and fixed our problem. Each person who pays for parking gets their own assigned parking spot which I find very nice and it's half the cost of parking in the university parking garages. There are odd stains on the walls of the second floor that haven't been cleaned since I got here, and cars and people can be easily heard all throughout the night and day.
Ashlyn, thanks for taking the time to review, we're so happy you're enjoying it here!
|Recommended: Yes
I LOVE it here Especially as a Student — The cardinal has everything Even job opportunities. I don't know what it is with my neighbors, though. Sometimes it sounds like they are bouncing weights up and down. But it only seems to affect me and it's not frequent enough to be a bother so I don't really take it into consideration as a bad trait when I am recommending this place. I could probably do something about it and it would be resolved. That is with everything around here cause maintenance is really quick about getting things done At first, I was a little apprehensive about the staff but they are really sweet. I love the pool and how close it is and how I have a gym right downstairs. My room is great and it's really convenient to campus.
Sophia, thanks for taking the time to review, we're glad you're enjoying it here! We do have security so if there's ever an issue with someone being a little too loud please give us a call! We have 24H on call maintenance and courtesy support. -The Cardinal
|Recommended: Yes
Its pretty nice — Its close to campus
Lillian thank you for taking the time to review! I agree our location makes it easy to get to class without messing with on campus parking or a bus! -The Cardinal
|Recommended: Yes
Solid 7.0 — Only issues I've really had is the frequency of fire alarms going of is far to common when half the time nothing ever happens which can become a safety hazard because people don't take them seriously. Some of our appliances are older, and the wood could be updated as there were several chips when we moved. Other than that it is a great place to live due to the location and price.
Maguire, thank you for taking the time to review. We completely agree about the alarms. The fire department and our alarm system company confirmed that it went off due to smoking/vaping under a smoke detector and we have a strict no smoking policy in the building. We do not want our residents inconvenienced and we don't want to the fire department to waste their time here when they have more important tasks to tend to. Please report anyone you see smoking or vaping to the office, we want to make sure this never happens again! -The Cardinal