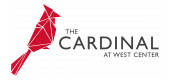 Your Review
Submit a Review

Resident Reviews
|Recommended: YesOverall good. — Overall the cardinal at the west center is a suitable property. The timely matter to get to work orders is rather sluggish, but that's the only negative part of it. Parking is excellent and well-lit area.
|Recommended: YesUA Cardinal — Close to campus, Overall pretty clean, good covid procedures
|Recommended: YesReally nice, well kept, and welcoming — Really nice, well kept, and welcoming
|Recommended: YesThis property is excellent. — Living here is super nice because its so close to everything and the apartments are very well taken care of.
|Recommended: YesModern Quality — Easy travel and a great place to live, near all entertainment locations
|Recommended: YesGreat location, nothing notable about the actual property — The location is why you live here. It is so close to the university, that I think I am closer than I was in my dorm last year. Covered parking is great. The rooms are good, just rearrange the furniture to maximize the space and make the room feel 20x better. Not having to share a bathroom with anyone is great, no matter how many roommates you have. The entire property is very uninspiring. The pool is nice, but don't expect to do anything but chat with others in shallow water. The gym is disappointing, very small. Honestly, despite some obvious cost saving, the location saves the property and is somewhere I would live again, simply because it's reasonably affordable and I don't have to drive to school. Definitely look into it if you're looking to live walking distance to the campus
|Recommended: YesA Pretty Decent Off Campus Apartment — Overall, I like this apartment complex. The location is perfect, since it is so close to campus. The layout and style are nice. The furniture seems high quality. However, I can hear easily hear my neighbors, even in the apartments above and below me. The kitchen appliances are not the best quality, and the apartment itself was not cleaned very well at all when we moved in.
|Recommended: YesHelpfulness of Staff — The day after we moved in the ac in our apartment broke. We called the front desk the next morning, Monday August 17th, and they told us they placed an urgent work order then. However after calling four more times, we finally got someone to fix the ac Wednesday afternoon after the apartment was at 82 degrees for three days.
|Recommended: YesClean apartment — The Cardinal is clean and comfortable to live. Also, this apartment is pet-free. If you have animals, you should choose the Cardinal.
|Recommended: YesGreat proximity, great space, great views — So far it has been fantastic, the rooms are great and with enough space to be comfortable. The only downside is the parking garage itself is a little tight, but the spaces themselves are great - and the streets getting out and in are not ideal.
|Recommended: YesLove the place, never had any issues — Everyone always complains about places they've stayed, but I never had an issues especially here. Nothing ever effects my day to day life and if they ever do need to do anything they always give me a heads up and they are always very nice about it. I also enjoy all the little giveaways and free meals they do which is perfect to get score some free food and meet new people.
|Recommended: YesFantastic place to live — Excellent facility, great community, enjoyable living space
|Recommended: YesVery good — Very good.
|Recommended: YesOverall a nice place to live — A lot of friendly people and the building is pretty nice. As far as parking goes it's very convenient because of how close it is, but the spaces are very small.